Some of the things I've done in recent weeks to pass the time include attending online workshops to try to develop new skills, vocalizing, and practicing.  This morning just for a lark, I (re-) sightread Beethoven's Sonatina in G Minor, Opus 49, something I hadn't thought about in ten or even fifteen years.  Torture is best when self inflicted, right?  Well truth be told, it wasn't all that awful.  The notes came back somewhat easily to my fingers.  But the piano IS sliding out of tune, so I was glad no one else had to witness it.
Most musicians these days are doing live streams.  That's not really my forte, so I have posted some older videos and mp3s from YouTube and SoundCloud, and will probably continue to do that.  I did share a song from my practice session, calling it the next best thing to a live stream.  I continue to prepare a song for our next foray into the studio, whenever that happens, and to work on a set for this year's Fete de la Musique, not knowing when or if that may happen.  It helps structure my practice.
I thought I'd share a photo from 2010, in honor of happier times and in the hope that we may soon get back to making music in public.  Photo by the late great Ed LeDoux.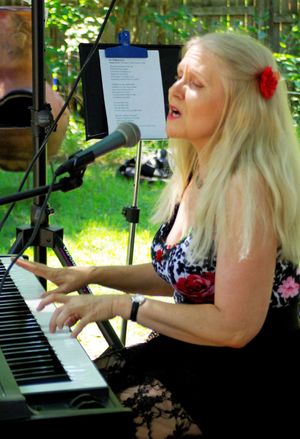 These are challenging times for all of us.  Along with watching Netflix and Amazon Prime, I encourage you to read, meditate, find -- or resume -- a hobby, discover your inner resources. 
Hopefully it won't be too long before I can see your smiling faces again.  Hang in there!